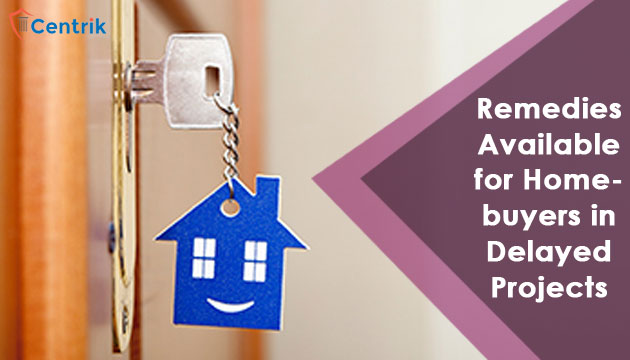 Status as on- 1/11/2019
We are living in an industrialized era where everything is moving at a fast pace and so is the case with the market for real estate construction projects. As a developing country, India had huge prospects for growth in the real estate sector, seeing this many people invested in the sector in good faith. Unfortunately, everything breaks down at its saturation point and that's what happened with the real estate industry in India. After few good years of booming in the market, it started going down and innocent buyers/investors were abused and exploited at the hands of those in power, which in this case were the developers of the project.
Before the advent of the RERA, 2016 and IBC, 2016 there were no proper legal remedies available for those who suffered badly at the hands of people in the dominant position. Some of the most common problems faced by the investors were a delay in possession, delay in completion, recovery of money invested, mental harassment by the developers, etc. Thankfully legislations like RERA, Consumer protection, and IBC came to the rescue and provided quite a number of remedies for delay in projects faced by innocent buyers.
Based on one's preference a homebuyer can seek legal remedies for delay in a project for all or any one of the following-
Ask for the refund with interest
Ask for the possession with interest for delay.
Can initiate insolvency proceedings under IBC, 2016 Against the builder/developer
Can proceed as an aggrieved consumer under the consumer protection act,1986
Below mentioned are some of the legal remedies for delay in the project available with a financial creditor (homebuyer) under various legislation:
PROCEDURE UNDER RERA:
Real estate regulatory act of 2016 has come up with a one-stop solution for the problems faced by aggrieved homebuyers. This act ensures to save its applicants from the hassles of proceeding separately under different laws.
PROCESS UNDER IBC:
A buyer can always approach specialized forums created under company law (i.e. NCLT & NCLAT). Under the Indian Bankruptcy code of 2016, an applicant can initiate an insolvency process against the builder/developer of the real estate project. The procedure under this code involves the appointment of an IRP who is a person engaged to ensure the proper valuation of the assets.
PROCESS UNDER CONSUMER PROTECTION LAW:
A homebuyer is a consumer after all, which gives him full right to seek redressal and approach any of the consumer forums at district, state and central level.
CONCLUSION
For a buyer suffering badly due to delays in the real estate sector, he has a pool of remedies to choose from. The process and manner of relief depend upon the law one opts for. For persons having obtained a RERA order generally prefers to go under NCLT as it ensures speedy redressal within a given time frame.  A person willing to take legal recourse against matter pertaining to the real estate sector is advised to get some proper legal advice before actually heading up any authority, as each case is different a lawyer can advise you better on the recourse strategy.
Disclaimer – the above article is based on the order and interpretation of related laws, for general awareness. The readers are expected to take expert opinion before reliance on the article. For any clarification, please read at support@centrik.in