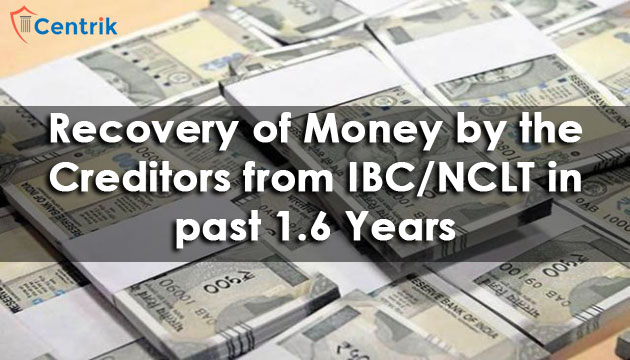 Status as on 17/12/2019
The Ministry of Corporate Affairs released their Year-End Review for 2019 where they discussed the various initiatives taken for Ease of Doing Business as well as their achievements so far of IBC, 2016 so far.
There is a fear amongst the creditors that approaching the NCLT will do more harm than good. For an individual creditor seeking to recover money, NCLT appears another stage of litigation proceedings, which emanates from myths.
NCLT is an action-oriented forum with high credibility and outcome.
Almost 50% of the applications filed so far have been disposed of at the pre-admission stage i.e. 9,653 cases involving a total amount of Rs. 3,74,931 Crs (approx)
Total 21,136 applications filed under the IBC. This implies that the claims of almost 50% creditors were extinguished in this process in a speedy manner and the Company did not face the Insolvency proceedings.
The creditors also fear that Corporate Insolvency Proceedings will begin if they file their claims against the Company.
The MCA data shows that only 2838 cases out of the total 21,136 applications were admitted into Corporate Insolvency Resolution Process (CIRP) i.e. only 13% of total applications have been admitted.
And out of these, 306 cases were closed by appeal/review/withdrawal. This shows that only a small percentage of cases are admitted by the NCLT for Corporate Insolvency Resolution Process (CIRP). This Review released by the MCA shows the changed dynamics in the Creditor-Debtor relationship, which tilts in favor of the creditor. It has now become easier and faster for the creditor to get their claims from the Debtor Company.
Further, according to World Bank Resolution Insolvency Index 2020, India's rank jumped from 108 in 2018 to 56 in 2019 highlighting the success rate in insolvency resolution mechanism. Moreover, the recovery rate has increased almost three times i.e. from 26.5% in 2018 to 71.6% in 2019 and the time taken for recovery improved from 4.3 years to 1.6 years within a short span of one year.
Conclusion
Based on the above statics and related laws, it can easily be interpreted that Insolvency and Bankruptcy Laws, 2016 has proved a major break through in recovering the debts and restructuring the companies. The IBC has been a great relief for the creditors who have to undergo a much simpler, time bound process to fructify their claims against the corporate debtors.
Disclaimer –the above article is based on the data sourced from MCA and interpretation of related laws. The readers are expected to take the expert opinion before relying this article. For more clarification, please write us at support@centrik.in