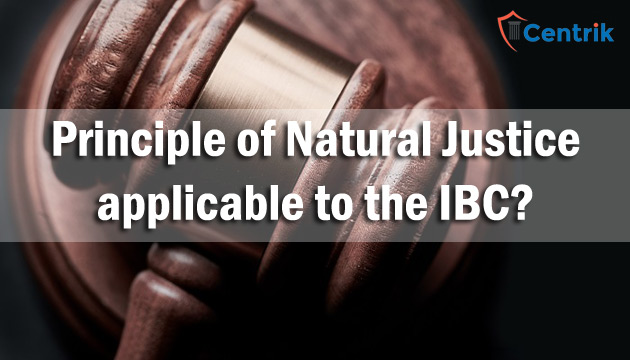 Status as on- 22/07/2022
The National Company Law Tribunal (hereinafter referred to as "NCLT"), Allahabad Bench held that the Principle of Natural Justice applies to the Insolvency and Bankruptcy Code, 2016 in the matter of Exim Scrips Dealers Pvt. Ltd. vs Rathi Graphic Technologies Ltd. CP (IB) No. 325/ALD/2019.
Brief Facts of the Case: 
Corporate Insolvency Resolution Process was initiated by NCLT against the Corporate Debtor vide its order dated 03.02.2020. The Resolution Plan submitted by Giriraj Coated Fab Pvt. Ltd and was declared as a Successful Resolution Applicant by the Committee of Creditors (hereinafter referred to as "CoC") on 12.11.2020. But, the CoC believed that the Resolution Plan submitted by the respective Resolution Application was far below the liquidation value. Therefore, the CoC granted the Resolution Applicants an opportunity to submit their revised Resolution Plan by 12.11.2020 at 7: 00 pm. That the plan submitted by the Giriraj Coated Fab Pvt. Ltd was approved by the CoC as they had submitted their plan before the deadline. However, the Resolution Plan submitted by the Exim Scrips Dealers Pvt. Ltd was 3 days after the deadline i.e., 15.11.2020, and the same was not considered by the Resolution Professional/CoC due to late submission. Henceforth, the Applicant had filed an application before the Adjudicating Authority for the approval of the Resolution Plan and had also filed another application seeking direction(s) to the Resolution Professional to place before the Revised Resolution Plan before the CoC.
Issue:
Whether principles of natural justice applicable to the proceedings under IBC, 2016 read with CIRP Regulations, 2016 made thereunder?
Whether principles of natural justice can be considered as a law for the time being in force within the meaning of Section 30(2)(e) of IBC, 2016?
Decision:
The Bench observed that the resolution plan of SRA (Successful Resolution Applicant) was approved in violation of law, and the CoC members had sufficient time in their hands to complete the CIRP of the Corporate Debtor. Furthermore, it was also observed that the Revised Resolution Plan submitted by the Successful Resolution Applicant was conditional.
The Bench decided that the actions of the CoC by not accepting the Applicant's Resolution Plan were void in nature and held that the Applicant must be given a fresh opportunity to participate in the process of submission of the Resolution Plan. Further, the Tribunal also directed the RP (Resolution Professional) to make a fresh publication of the Invitation of Expression of Interest from the prospective Resolution Applicant.
Disclaimer: The above article is based on the personal interpretation of the related orders and laws. The readers are expected to take expert opinions before relying upon the article. For more information, please contact us at rera@centrik.in