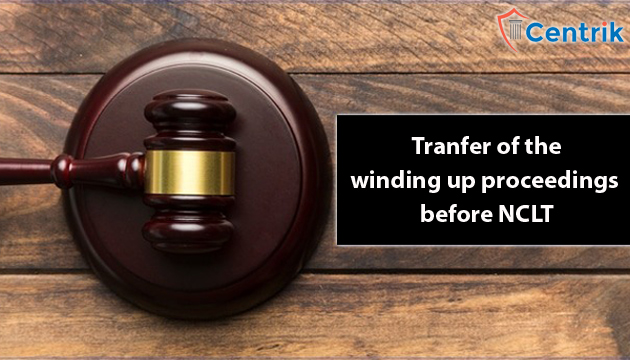 Status as on: 14/07/2021
Brief Facts of the case
A financial creditor filed an appeal in the Supreme Court after being dissatisfied with an order issued by the Company Court (High Court of Allahabad) refusing to transfer the pending winding-up petition to the National Company Law Tribunal (NCLT).
The main issues which arose in this appeal were:
What are the circumstances under which a winding up proceeding pending on the file of a High Court could be transferred to the NCLT and
At whose instance, such transfer could be ordered.
Held
The Hon'ble Supreme Court ruled as follows:
The appeal was allowed, the impugned order was set aside and the proceedings for winding up pending before the Company Court (Allahabad High Court) against the first Respondent was ordered to be transferred to the NCLT, to be taken up along with the application of the Appellant under Section 7 of the IBC.
Based on Forest India Ltd. c. Edelweiss Assets Reconstruction Co. Ltd., the court determined that parallel proceedings in the HC and NCLT would demolish the entire object of the IBC, and thus the petitioner should be entitled to seek transfer of the respondent's pending winding up proceedings. As a result, the appeal was granted, and the case was assigned to the NCLT.
The Petitioner herein falls within the definition of the term "party" as defined in the 5th proviso to Clause (c) of Sub-section (1) of Section 434 of the Companies Act, 2013, and thus has the right to request that the pending winding up proceedings against the first Respondent be transferred to the NCLT. The restriction under Rules 5 and 6 of the Companies (Transfer of Pending Proceedings) Rules, 2016 relating to the stage at which a transfer can be ordered does not apply to a transfer covered by the fifth proviso to clause (c) of sub-section (1) of Section 434 of the Act.
Therefore, the impugned order of the High court rejecting the petition for transfer on the basis of Rule 26 of the Companies (Court) Rules, 1959 is flawed.
Conclusion
This judgement is a step in the right direction because it recognizes the authority of a non-petitioning creditor to request for a transfer of the winding up proceedings. It assures that a creditor is not deprived of their right just because they did not participate in the initial winding up procedures against a corporate debtor. Furthermore, shifting the winding up procedures under the fifth proviso ensures that simultaneous processes do not take place in both forums. Parallel proceedings against a corporate debtor would be contrary to the purpose of the IBC, the Supreme Court confirmed the meaning of this clause in its plain and short 26-page judgement.
Disclaimer – The above article is based on the personal interpretation of the related orders and laws. The readers are expected to take expert opinion before relying upon the article. For more information, please contact us at support@centrik.in or at 8383011629