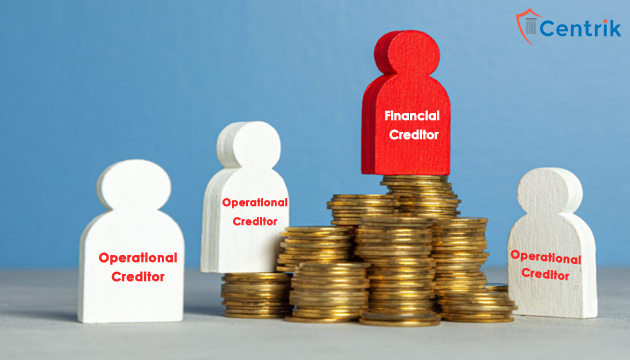 Status as on- 27/04/2021
The Code expressly excludes operational creditors from the Committee of Creditors (CoC), which makes all major decisions when a company is in bankruptcy. Operational creditors, on the other hand, may participate in a committee of creditors without having any voting rights, if their claims amount to at least 10% of the total debt. Only when the Corporate Debtor has no financial creditors, the operational creditors are given representation in the Committee of Creditors. A financial creditor may be either a secured or an unsecured creditor, but an operational creditor is often an unsecured creditor. Financial creditors are given priority over operational creditors even during liquidation and asset distribution. As a result, the IBC restricts an operational creditor's rights to only attending the CoC conference. As a result, they are unable to participate in the decision-making process. It is critical to remember that, homebuyers make a member of a committee of creditors as distinguished in the case of Pioneer Urban Land and Infrastructure Limited and Anr. V. Union of India &Ors.
The Essar Steel Judgment
In this case, Essar Steel filed a CIRP Company Petition in the Ahmadabad NCLT, where ArcelorMittal proposed a resolution plan that was approved by the RP and CoC. The operating creditors were to be paid 8% of their overall claim under this scheme. Financial creditors, on the other hand, received 92.5 percent of their claims. This resolution was challenged through a series of petitions from the operational creditors. The NCLAT then redistributed the plan's payable claims and issued a decision that marks a turning point in the debate about whether operational creditors must be treated equally to their financial counterparts. The NCLAT's decision was challenged in the Supreme Court and the same was reversed by the Hon'ble Court. The NCLAT wished to propose similar treatment for both types of creditors, but this was not accepted as only creditors in the same class were offered this privilege. The classification was made deeper.
Conclusion
It is clear from the Essar Judgment, that the Code's framers established the classification between creditors with the aim of protecting all stakeholders' interests by offering a process that primarily focuses on debt settlement and restructuring. It should also be noted that, in some circumstances, operational creditors are unable to recover their debts due to a lack of rights, as shown by numerous judgments. Furthermore, homebuyers are now considered financial creditors, whereas operational creditors, who are from the business world, may have a better understanding of the industry but still lack those rights.
Disclaimer – The above article is based on the personal interpretation of the related orders and laws. The readers are expected to take expert opinion before relying upon the article. For more information, please contact us at rera@centrik.in