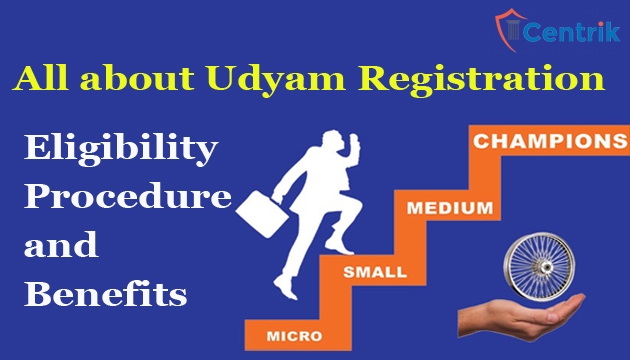 Status as on- 04/04/2022
Many new entrepreneurs have a question in their mind which is "What is Udyam Registration?" If you have a similar question in mind, then you landed on the perfect page.
Udyam registration can be simply understand by the term "MSME Registration". In other words, it is a government registration for MSMEs which provides them with a unique identity number and a recognition certificate to certify them as micro/ medium or small enterprises. The main motive behind was this to provide bucket full benefits to all the businesses working as MSMEs in India.
Eligibility for Udyam registration
The Udyam registration is governed by the Micro, Small and Medium Enterprises Development Act, 2006 (MSMED Act, 2006) in India under the Ministry of Micro, Small and Medium Enterprises:
Micro Enterprises: For any MSME to be defined as Micro units, its investments must be up to Rs. 1 crore and turnover of less than Rs. 5 crore. Earlier, the investment criteria was up to Rs. 10 lakhs for service MSMEs and Rs 25 lakhs for manufacturing.
Small Enterprises: Enterprises with investment up to Rs. 10 crore with a turnover of less than 50 crore will be now called small units. The definition earlier was on investment criteria of up to Rs. 5 crore.
Medium Enterprises: MSMEs will now be called Medium units if they have investments upto Rs. 50 crore with a turnover of less than Rs. 250 crore. This investment was revised and was increased from Rs. 10 crore.
Benefits of Udyam Registration
As mentioned above, the main motive for Udyam registration was to provide benefits to MSMEs in India. Some of these benefits are listed below:
Interest rate subsidy on bank loans
Subsidy on Patent registrations and industrial promotions
Helps in acquiring government tenders
Easy to get licenses, approvals and registrations
Special beneficial reservation policies in the manufacturing and production sectors
International trade fair special consideration
Stamp duty and registration fees waiver
NSIC performance and credit rating fees subsidy
Direct tax laws rules exemption
The benefits for Udyam registration is vast and the provided list is exhaustive of the benefits.
Procedure for registration under Udyam
By following the below mentioned steps, the entrepreneurs can register their enterprise as an MSME:
Step 1: Go to https://udyamregistration.gov.in/
Step 2: Click on the "For New Entrepreneurs who are not registered yet as MSME or those with EM-II" option
Step 3: Enter your Aadhaar number and name as per the Aadhaar, and click on "Validate & Generate OTP"
Step 4: Enter the OTP received on your phone and select validate.
Step 5: On next page, select the type of organization and enter your PAN Number, and click on validate.
Step 6: On the next page, fill in all the necessary details (personal and business-related)
Step 7: After filling in the details, select on "Agree to Terms and Conditions" check box and click on "Submit and Get final OTP"
Step 8: Enter the OTP received on your phone and click on the "Submit" button and you will receive a registration number
Step 9: Once all your information is verified by the Government, you will receive an e-registration document on your registered mail id.
Conclusion
Udyam came as much relief to the MSMEs as it brought many benefits with it. Also, MSME registration process is fully online, paperless and based on self-declaration. Only aadhar number is sufficient for its registration. PAN & GST linked details on investment and turnover of enterprises are automatically taken from government data base. Moreover, no enterprise shall file more than one Udyam registration. However, any number of activities including manufacturing or service or both may be specified or added in one registration.
Disclaimer: The above article is based on the personal interpretation of the related orders and laws. The readers are expected to take expert opinion before relying upon the article. For more information, please contact us at rera@centrik.in