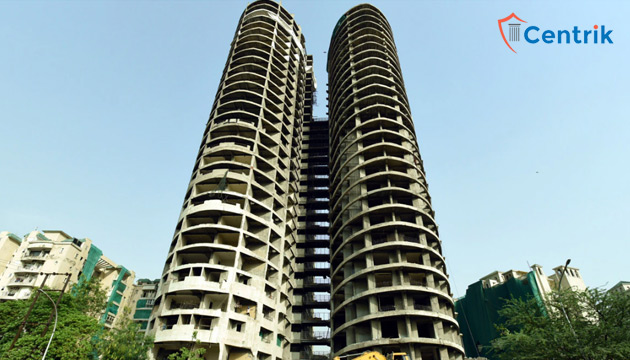 Status as on: 11/08/2022  
Introduction
A division bench of the Hon'ble Supreme Court imposed costs amounting to Rs.5 lakhs on an NGO seeking to stop the demolition of the Supertech twin towers in Noida and rather use them as a Hospital/University. The bench discouraged petitions under Article 32 once the apex court's judgments had attained finality.
Background of the Case
The apex court in its order dated 31.08.2021 upheld the Allahabad High Court's order directing the demolition of the twin 32-story towers constructed by real estate firm Supertech, finding it to be illegal and contrary to the National Building Code, 2005. The Noida located towers were to be demolished within 4 months from the date of obtaining the certified copy and Supertech was ordered to bear the cost of such demolition and removal of debris. Upon failure of payment of the same, the NOIDA Authorities have been directed to recover the amount as land revenue arrears.  The test blasts are already being carried out on the 100-meter-high towers with the demolition to be carried out on 21st August 2022.
A Non-Government Organization, the Centre for Law and Good Governance, filed a petition under Article 32 seeking to stall this demolition and rather use the towers for public utilities like hospitals or universities. On 01.08.2022, a division bench of Justices D.Y. Chandrachud and Sudhanshu Dhulia heard the petition.
Decision of Supreme Court
The bench held that no petition under Article 32 shall be entertained by the court in case the Supreme Court's order has already attained finality, like the present case in hand.  The bench did not find any merit in the contentions of the petitioner and asked how such a petition could be filed by anyone. It said that this is not a case of Public Interest Litigation but a mere publicity gimmick.
It further imposed costs of Rs.5 lakhs and directed the same to be deposited within 4 days to the SC registry. The amount will be transferred to Supreme Court Bar Association (SCBA) to be used for the welfare of families affected by Covid.
Disclaimer-The above article is based on the personal interpretation of the related orders and laws. The readers are expected to take expert opinions before relying upon the article. For more information, please contact us at rera@centrik.in