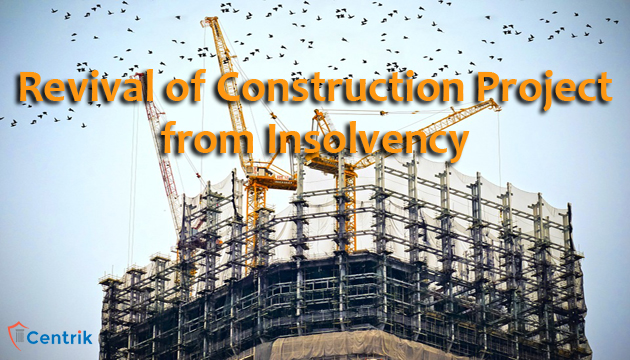 Status as on- 30/12/2019
It is estimated that over 65% of cases before the NCLT are dealing with stalled infrastructure projects and buyers are left in turmoil in regards to resources available under the IBC to revive projects under insolvency proceedings. The following article aims to caution and summarize the Corporate Insolvency Resolution Process with respect to buyers seeking revival and completion of Project.
What is Insolvency?
Insolvency references a situation where the Corporate Debtor i.e. Builder is unable to meet the financial obligations towards its creditors or lenders. Application to initiate the Corporate Insolvency Resolution Process(CIRP) may be initiated by Financial Creditors (Home Buyers)/ Operational Creditors or the Builder i.e. application of the Corporate Debtor themselves. If the insolvency application is accepted by the NCLT an Interim Resolution Professional(IRP) is appointed who administers over the formation of a Resolution Plan by the Committee of Creditors as per the IBC.
Points to Note: Home Buyers Perspective
For buyers approaching the NCLT as Financial Creditors under the IBC it is important to note the probable outcome of the Corporate Insolvency Resolution Process- Resolution or Liquidation.
Builders and projects under insolvency proceedings are placed under a moratorium that can often leave the buyers investment at risk in cases where the builder owes massive debts to big creditors like bank and financial institutions.
Home Buyers approaching the NCLT must always be aware of the fact that provisions under the Insolvency and Bankruptcy Code are not intended to be used as recovery mechanisms.
The resolution process involves an analysis of the Builders financial position to see if the project is capable of being revived. If not in cases of liquidation the home buyers is not guaranteed return of full investment made.
Consequences of a Project being declared Insolvent: Revival?
On a successful Resolution Plan being voted on by the Committee of Creditors and approved by the NCLT the following scenarios are applicable;
Funds may be raised by selling of assets belonging to the builder to complete the stuck project
A Resident Welfare Association made of home buyers may acquire the stuck project and ensure completion
Alternate Investment Funds such as Stress Funds may be eligible for last mile funding of stuck projects in need of construction funds.
Creditors may take over and attempt to revive the project in order to earn value appreciation
In the most rudimentary terms the main aim of the IBC is to ensure that companies remain a going-concern, thus revival of projects is the goal of the Resolution Professional as it provides the maximum benefit to not only the parties involved but the economy in general, thus there is a visible trend of courts willing to go the extra mile to avoid the unwanted economic side effects of liquidation often providing for a resolution process that may exceed the 270 day Statutory limit to ensure the revival of the project.
Disclaimer – The above article is based on the news, publications and views from different sources. We don't certify any of the information contained therein. The readers are expected to take expertise opinion before relying on the article. The readers are expected to take expert opinion before relying on this contention. For any support, please reach us at support@centrik.in