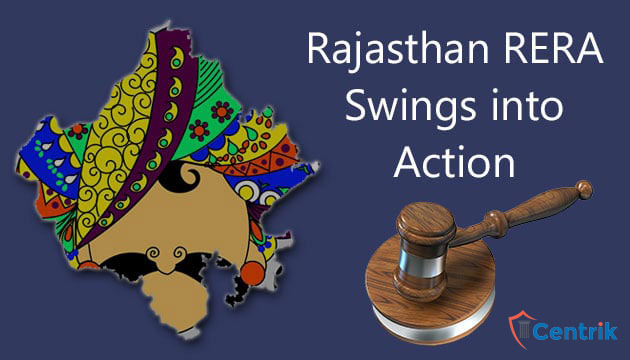 Status as on 5/08/2019
Real Estate Regulatory Authority (RERA) of Rajasthan, on July 3rd, took strict action and issued notices to 9 developers who were violating the norms by advertising their projects without getting them registered under the RERA. The authority also canceled the registration of one project.
An official said that a developer proposed a project in Pratap Nagar, Jaipur, claimed that the land belongs to him. For the same, an affidavit was also submitted while registering the project at RERA. However, when a complaint was filed against the developer, during the examination, it was proved that the land doesn't belong to him. Hence RERA canceled the registration.
The RERA Act was enacted in 2016 but an illegal business of non-regularised plotted colonies continues to flourish in the state capital, leaving many home buyers in a fix. So far real estate dealers and agents in Rajasthan were duping the homebuyers by selling them plots on non-regulated colonies and unregistered projects. Most of these developments are done on agricultural land without proper permits from the state authorities and other departments. But, after this issuance of a notice, the developers now, will hopefully start registering their projects with RERA to some extent.
The Rajasthan Authority appears to be tightening the noose on these illegal colonies and unregistered projects. The authorities have started imposing a penalty if the developers are found guilty. The implementation of RERA in the state is leading to the dissolution of small and unregulated builders who are solely working on cash.
At present very few cases are being heard by the authority, the same would see a shift in the next few months as more and more complaints will be filed by the homebuyers owing to illegal allotments, untimely handovers and rising awareness among the buyers. This seems to be a good time for Rajasthan RERA to get into action at full swing as the appointment of the chairman, other officials and retired judges in the Appellate Tribunal is already done in May.
Since Rajasthan is a big state, the issues related to real estate will see a rise in the coming year. The authority needs to be ready for not only the timely adjudication but also the timely execution of its orders.
Disclaimer – The above views/opinions are based on the interpretation of laws and practical experience which may change from person to person. The readers are required to contact at rera@centrik.in to the expert before relying on the above article.