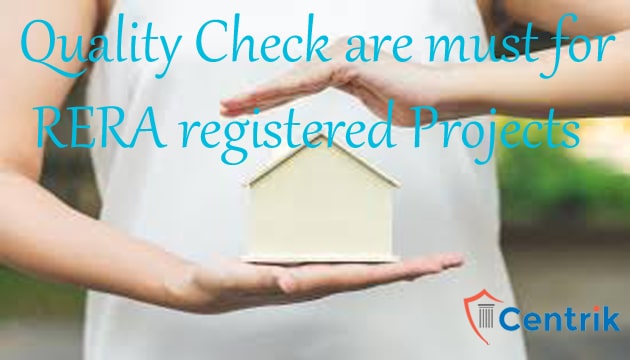 Status as on 4/10/2019
INTRODUCTION
The Real Estate (Regulation and Development) Act, 2016 is an Act of the Parliament of India which seeks to protect home-buyers as well as help boost investments in the real estate industry. The Act establishes the Real Estate Regulatory Authority in almost every state for regulation of the real estate sector and also acts as an adjudicating body for speedy dispute redressal.
Since the day Real Estate (Regulation & Development) Act (RERA) came into force it is taking very important steps to regularize the Real estate market while being a watchdog for every new project coming up and the existing projects to go through and fulfill all the essential requisites.
QUALITY ASSESSMENT
While working as a watchdog for the Real Estate market now Maharashtra Real Estate Regulatory Authority (MahaRERA) has taken up new steps for registered projects majorly for the ones which are registered after December 1, 2018. They will have to get assessed for quality certification which would be then uploaded at the end of every financial quarter.
"We have issued a circular asking all developers in Maharashtra to submit quarterly quality certificates from their engineers certifying the quality of construction. The circular will be valid for all ongoing projects registered with the authority from December 1, 2018. This will be an additional certification required from developers,'' an official said.
The consumers will also get benefited from these certifications as they will receive a "quality certificate" of the constructions made under these registered projects. The builder under Form 2 A is supposed to fill in all the details regarding input materials and workmanship and this will be insisted upon at the time of registration. Also, the project engineer has to certify the cost estimate as well as the cost incurred for the purpose of withdrawal of money from the designated account as per Form 2. With this added Form 2A, the engineer supervising the project construction will have to certify that the quality of the construction is as per National Building Code norms.
CONCLUSION
The promoter has to request an engineer who will supervise the work and quality of construction material and will submit the quality certificate as under Form 2A and by this the entire process will become transparent and everyone will be assured of quality of the projects and the buyer can raise objections as and when required if the material differs.
Disclaimer – The above article is based on the interpretation of related laws and judgments, which may differ from person to person. The readers are expected to take expert advice before placing reliance on it. For any clarification, please reach to our expert at rera@centrik.in or call at 8383011629