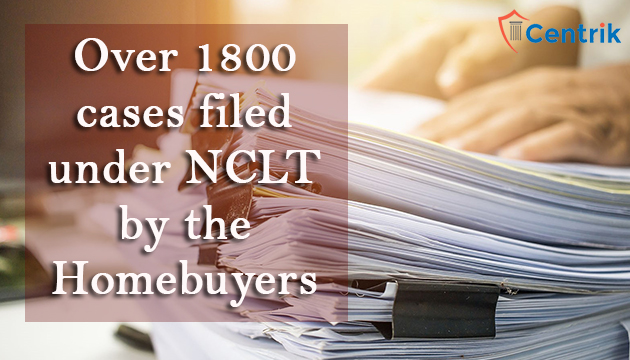 Status as on- 19/11/2019
INTRODUCTION
In August 2019, the Supreme Court of India upheld the amendment so made in 2018 to deem allottees of real estate projects to be "financial creditors" in the landmark judgment of Pioneer Urban Land and Infrastructure Limited vs. Union of India, that homebuyer, will be treated as a financial creditor and entitled to be a part of the Committee of Creditors to safeguard their interests. Thus, the homebuyers have all the rights and privileges under Section-7 of the IBC as a financial creditor. This opened the floodgate for the aggrieved homebuyers who have been tormented at the hands of the builders for years.
ANALYSIS
Subsequently, the home buyers taking advantage of this judgment have so far filed more than 1,800 cases against builders till the end of September under the Insolvency and Bankruptcy Code (IBC). Anurag Singh Thakur, Minister of State for Corporate Affairs confirmed that a total 1,821 cases have been filed by homebuyers against builders since June 2018 under the Code.
The homebuyers are moving NCLT to claim the due debt, leading many Real Estate companies into the insolvency process. NCLT creates abundant pressure on the builders and also has shorter deadlines for redressal. Actually, getting the RERA orders implemented has become a challenge for buyers. Therefore, more and more homebuyers are approaching to NCLT under IBC for speedy redressal and better implementation. Although this has created more pressure on the NCLT this is only because the NCLT performs its functions and responsibility better than any other forum. The litigation cost may seem high before the NCLT but the amount of pressure and work the Authority undertakes is remarkable and is thus the most preferred legal recourse as if today.
CONCLUSION
NCLT has become a prevalent method among homebuyers today for claiming the due debt from developers. However, developers believe that the priority should be to complete the stuck projects rather than putting the companies into CIRP. The latest government data shows that how IBC is a huge change brought by the recent government in terms of a speedy redressal for the aggrieved homebuyers.
Disclaimer – The above article is based on the order and interpretation of related laws, for general awareness. The readers are expected to take expert opinion before reliance on the article. For any clarification, please read at support@centrik.in