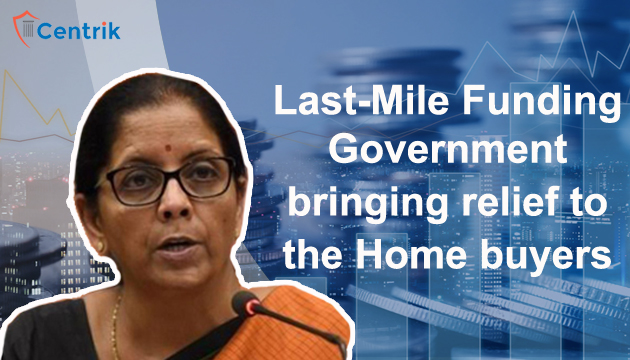 Status as on- 30/03/2020
In a recent development, the Government cleared the last mile funding for 2 stuck housing projects with over Rs. 540 crore capital commitment. This would provide relief to over 1,800 troubled homebuyers based in Bengaluru and Mumbai. Over 300 Real Estate Developers had applied under this Alternative Investment Fund to seek support for their Real Estate Projects. 
What is Last Mile Funding?
Last Mile Funding is a way of financing Developers in case of Real Estate Projects which are stuck and are nearing completion. This method of funding is becoming increasingly popular among the developers in the last phase of the Construction. This helps the Real Estate Developers to ensure completion of the project and timely delivery to Homebuyers. For the Investors too, this is a viable opportunity as there is more certainty while investing at this stage. 
Steps taken by the Government- AIF of Rs. 25,000 crore
The Government while had in 2019, announced the creation of Rs. 25,000 crore Alternative Investment Fund (AIF) for the revival of stalled housing projects. It was identified that about 90% of the stalled projects are in affordable and mid-segment, to which the fund is directed and accordingly guidelines were issued. This special window was created for last-mile funding of Real estate Projects so that the Real Estate sector can be revived and relief can be extended to thousands of aggrieved homebuyers. This move has greatly helped to boost confidence in the Real Estate Sector. 
How does Last-Mile Funding help Homebuyers?
This last mile funding is expected to provide relief to homebuyers stuck in nearly 3.5 lakh incomplete projects across India. It assuages the fears of the homebuyers who have become cautious in investing in real estate projects by even reputed developers. Further, this mode of funding and especially government-sponsored funds would ensure that healthy projects are not pushed into a bad debt like situation for want of working capital. 
Thus, there is higher surety for the Homebuyers that the Projects will be complete and timely delivery will be made through financial assistance.
Disclaimer– The above article is based on the personal interpretation of related laws, which may differ from person to person. The readers are expected to take expert opinion before relying on this article. For more clarification, the readers can be expected at support@centrik.in