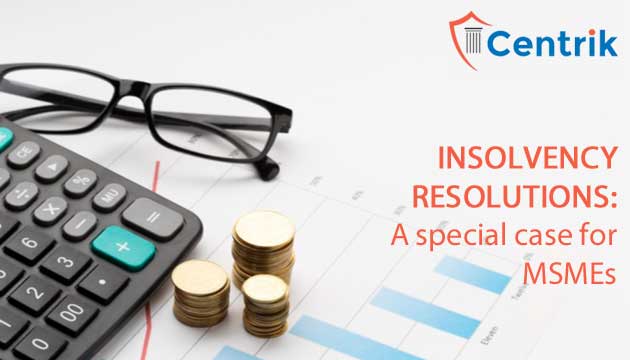 Status as on- 15/03/2023
MSME stands for Micro, Small, and Medium Enterprises, which are small businesses that operate in India. The Indian government defines MSMEs based on their annual turnover or investment in plant and machinery, as follows:
Micro Enterprises: up to Rs. 1 crore of investment
Small Enterprises: between Rs. 1 crore and Rs. 10 crore of investment
Medium Enterprises: Between Rs. 10 crores and Rs. 50 crores of investment
Under the IBC, a creditor can initiate an insolvency process against an MSME if the MSME has defaulted on its payments. However, the government has provided certain relaxations for MSMEs to prevent them from being dragged into insolvency proceedings unnecessarily. For example, the government has increased the default threshold for MSMEs from Rs. 1 lakh to Rs. 1 crore, making it difficult for creditors to initiate insolvency proceedings against them.
Additionally, the government has introduced the pre-packaged insolvency resolution process (PPIRP) for MSMEs, which allows them to initiate an insolvency process with the approval of two-thirds of their creditors. This process is less time-consuming and less costly than traditional insolvency proceedings, and it provides a quicker resolution for distressed MSMEs.
In India, the Insolvency and Bankruptcy Code, 2016 (IBC) provides a framework for the resolution of insolvency for all types of businesses, including Micro, Small, and Medium Enterprises (MSMEs). However, recognizing the unique challenges faced by MSMEs, the government has introduced certain special provisions for the resolution of the insolvency of MSMEs in India. One such provision is the pre-packaged insolvency resolution process (PIRP), which is a faster and more efficient way for MSMEs to resolve their insolvency issues. Under the PIRP, the resolution plan is prepared before the commencement of the insolvency process, and the resolution process is completed within 120 days, compared to the standard 180-day timeline for corporate insolvency resolution processes.
In addition, the government has increased the threshold for initiating insolvency proceedings against MSMEs to INR 1 crore (approximately USD 136,000), compared to INR 1 lakh (approximately USD 1,360) for other companies. This move aims to protect smaller businesses from facing insolvency proceedings for minor defaults.
Furthermore, the IBC also allows for the appointment of a resolution professional to manage the affairs of the MSME during the insolvency process, thereby ensuring that the interests of all stakeholders are protected.
Overall, the special provisions introduced for MSMEs under the IBC aim to provide a more streamlined and efficient insolvency resolution process that takes into account the unique challenges faced by smaller businesses.
In summary, while MSMEs are subject to the IBC in India, the government has introduced certain relaxations and a new resolution process to make it easier for them to resolve their financial distress efficiently and effectively.
Disclaimer: The above article is based on the personal interpretation of the related orders and laws. The readers are expected to take expert opinions before relying upon the article. For more information, please contact us at ibc@centrik.in.