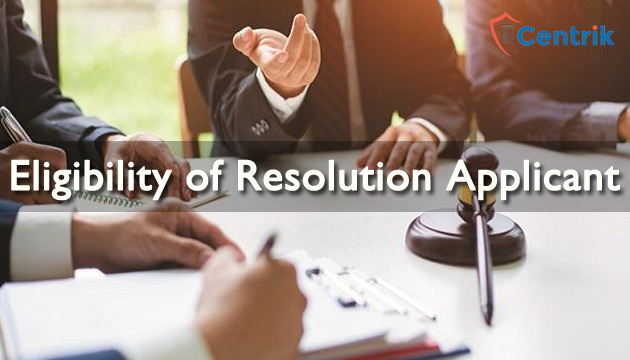 Status as on- 16/09/2022
ABSTRACT
Section 29A of the Insolvency and Bankruptcy Code has emerged as one of the key aspects in determining the Eligibility of the Potential Resolution Applicants in a tedious attempt to save the company in question under the Corporate Insolvency Resolution Process (CIRP).
What is Section 29 A of The Insolvency and Bankruptcy Code 2016
Section 29 A is binding on Resolution Applicant wherein a resolution applicant is defined as a person who individually or jointly with any other person, presents a resolution plan to the resolution professional. Section 29A of the Code put certain restrictions on the resolution applicants to present a resolution plan. This Section does not apply to an individual – jointly or in concert with the ineligible person, person-related on connected to the ineligible person. In the above definition, there is a word included 'person'-Section 5 (23) of The Insolvency and Bankruptcy Code defines the term person. This definition of a person is wide.
Personnel includes
Directors
Managers
Key Managerial Personnel
Designated Partners and employees, if any of the corporate Debtor
Section 29 A was primarily enacted, primary focus of the law was to ensure the improvement and maintenance of the corporate debtor by defending the corporate debtor of its management and from corporate death by liquidation.  Section 29A is a restrictive provision any person failing on the negative list not eligible to submit a resolution plan shall fulfill the criteria laid down by the resolution professional with the approval of the committee of creditors, and shall not suffer from any disqualification mentioned under the said section are as follows.
a) is an undischarged insolvent;
b) is a willful defaulter in accordance with the guidelines of the Reserve Bank of India issued under the Banking Regulation Act, 1949
c) It is having an account or an account of the corporate debtor under his management and control or of whom a person is a promoter, provided a period of at least 1 year has not lapsed from the date of such classification.
d) as been convicted offense punishable with imprisonment –
(i) for two years or more under any Act specified under the Twelfth Schedule; or
(ii) for seven years or more under any law for the time being in force:
e) disqualified to act as a director under the Companies Act, 2013;
f) has been debarred from accessing the Capital market, by SEBI.
g) has been a promoter or in the management or control of a corporate debtor in which a preferential transaction, undervalued transaction, extortionate credit transaction, or fraudulent transaction has taken place and in respect of which an order has been made by the Adjudicating Authority under this Code
h) Such a person has executed an enforceable guarantee in favor of a creditor in respect of a corporate debtor against which an application for insolvency resolution made by such creditor has been admitted under this code.
Insolvency and Bankruptcy Code (Amendment) Bill 2019
Section 29A was added to the code by the 'Ordinance of 2017' The Ordinance of 2017 was replaced by the INSOLVENCY AND BANKRUPTCY CODE (Amendment) Bill, 2019.
CONCLUSION-
Section 29A identified additional reasons on which a person may be disqualified to submit a resolution plan. As a result, there was no issue of treating unequal as equals, making it constitutional.
Disclaimer- The above article is based on the personal interpretation of the related orders and laws. The readers are expected to take expert opinions before relying upon the article. For more information, please contact us at support@centrik.in