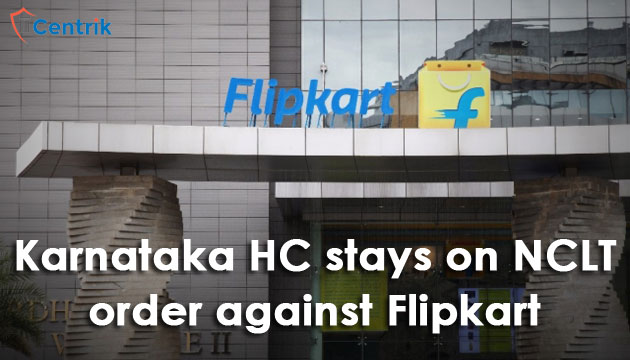 Status as on- 8/11/2019
Flipkart has obtained a stay order from Karnataka High Court on insolvency proceedings initiated against the e-commerce firm by the National Company Law Tribunal (NCLT) in a case involving alleged withholding of dues to a supplier of led TVs on its platform.
ISSUE
CloudWalker Streaming, a Mumbai-based supplier of LED TVs, has alleged that Flipkart did not honor its purchase agreement and had not paid dues totaling to Rs.26.95 crore. The Supplier moved to the NCLT and petitioned that insolvency shall be initiated against Flipkart.
Therefore, on October 24, accepting the petitioner's argument, the Bangalore bench of the NCLT ordered initiation of insolvency proceedings against Flipkart. However, Flipkart approached the Karnataka High Court for a stay on the CIRP process initiated by the NCLT. Further, the Karnataka High Court stayed the CIRP process.
FACTS OF THE CASE
The matter pertains to an agreement between CloudWalker and Flipkart that dates back to December 2016. CloudWalker, which sells TV under Cloud TV brand, had alleged that Flipkart had signed the agreement to purchase stock worth Rs 103.62 crore but only bought goods worth Rs 85.57 crore, and that too after many delays.
After receiving two batches of TVs in January and March 2017 the Flipkart stopped taking deliveries on the pretext of lack of warehousing space, which leads to piling up of unsold inventory with the seller.
Further, Flipkart also delayed payments over several occasions in 2017 and as in March 2018, had failed to pick up 70 per of the stock it ordered, alleges the petitioner. Therefore, taking into consideration the petitioner the  NCLT order initiation of CIRP which was further put on stay by the Karnataka High Court.
CONCLUSION
Once again high Court under article 226 exercised its extraterritorial jurisdiction power and has put a stay on NCLT order.
Disclaimer – The above article is based on the order and interpretation of related laws, for general awareness. The readers are expected to take expert opinion before reliance on the article. For any clarification, please read at support@centrik.in