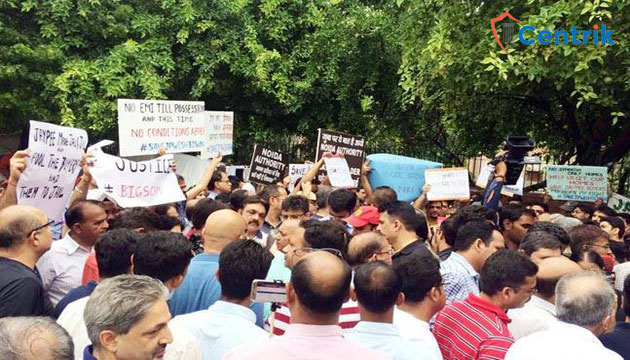 Status as on: 21/01/2022
Complaints against Builder
Real Estate Builders have now become so ignorant to the needs and demands of the allottees that neither they complete the project in accordance to the proposed plans nor they comply with the orders of the RERA or other authorities.
The allottees have now become more aware about their rights and are now intelligently using them also but the Builders have also formulated their plans to linger on the legal proceedings and also to delay the executions of the decrees and orders of the Courts.
The Allottees seek their remedy from RERA, NCLT or Consumer Forum. However, RERA, especially established for the Real Estate sector, provides the best remedies which include refund of entire deposited amount alongwith interest, interest for delayed period, compensation or any other appropriate directions.
NCLT could order to initiate the insolvency process of the builder company which in itself is a very long and technical process.
All allottees approaching before these forums secure reliefs for them but the execution force is a bit low therefore they feel remediless even after winning a long legal battle. A better option which has come forward is where allottees come forward to form a group and then approach these forums.
Effects of single Complaint under RERA
Considering the hardship and harassment faced by the Allottees, RERA provides the remedy which these single allottees are eligible for but the execution of the order is next step where these allottees are again left at the mercy of the Builders or they have to file a fresh execution petition.
Effects of group complaint under RERA
Allottees that are seeking proper resolution of the issue and approach the forums in group and they are always provided with the better reliefs like taking over of the construction of the project etc.
The group seeking the relief always have better stand than individual allottees and the builder also have to adhere to the orders and the directions of the forums.
In various cases, RERA has ordered the transfer of supervisory power of construction of the project to the group and association of the allottees which has also derived positive results. Some of these projects are complete and the allottees have started taking possession of their units. Groups have also resolved the financial stress of the projects through the NCLT.
How to form group
Not all remedies will come to our door automatically. Definitely the allottees are going to be the neighbors in future but all are unknown to each other until the possession is given. The allottees have to be proactive and to connect with other fellow allottees to form groups. Some legal formalities are to be handled so the allottees must also seek proper legal advice before taking any step.
Disclaimer: The above article is based on the personal interpretation of the related orders and laws. The readers are expected to take expert opinion before relying upon the article. For more information, please contact us at rera@centrik.in