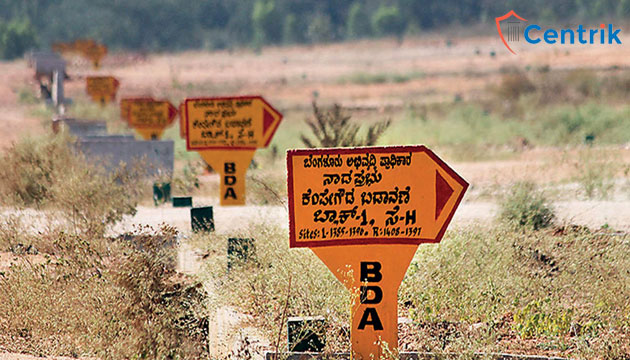 Status as on- 12/09/2021
The Bangalore Development Authority (hereinafter referred to as BDA/authority) taken up a massive land by issuing preliminary notifications to obtain 37,168 acres to develop 64 layouts. The authority paid compensation of about Rs 2,000 crore in regard. However, it was recently exposed that more than 1,100 acres, valued at around Rs 1,000 crore are yet to use for the development.
Moreover, the BDA had already paid compensations to the property owners regarding attaining their property. Though the authority did not have specific particulars on the utilized land and vacant land. Regarding this concern, a senior BDA official stated that some properties are encroached, while some other are trapped under the litigation process. "In many cases, the court has ruled in favour of BDA, but the authority has not followed up or taken possession of land," he added.
Due to concerning lack of specific evidence and data, social activist Sai Datta proceed to the Karnataka Lokayukta seeking a direction to the BDA to conduct a land audit. He made the statement that "I filed a complaint with Karnataka Lokayukta on July 20, 2017. Justice P Vishwanath Shetty has ordered the BDA to provide us with data on its properties. After four years, the BDA made the land audit report public on July 12, 2021".
The massive land audit was taken up by E1 Technologies and released their report. According to that report, the authority has obtained 37,168 acres of land to develop 64 layouts. Consequently, authorities constructed buildings and on 7,059 acres after paying compensation to the property owners. The report also revealed that 1,171 acres of the land areaare yet to be utilized. Moreover, the authority has notified for the existing land of 11,399 acres, but compensation was not awarded to the property owners yet. It has also been noted that 1,207 acres are vacant and the BDA is yet to pay compensation to the landowners.
Whereas, initially South Bangalore possessed 689 acres and 37 guntas of vacant land, regarding which the authority has already paid compensation. Subsequently, East Bangalore had 230 acres of vacant land. Afterwards, the authority has 186 acres and 12 guntas of vacant in West Bangalore West and 64 acres and 33 guntas of vacant land in North Bangalore.
The commissioner of BDA Rajesh Gowda MB stated that the possession of taking of vacant land would commence soon. The commissioner made a statement that "The land audit has identified the vacant land that has to be used by the BDA. Now, we have to look into legal issues pertaining to these lands. As of now, around 6,500 cases are pending at different courts,".
Disclaimer: The above article is based on the personal interpretation of the related orders and laws. The readers are expected to take expert opinion before relying upon the article. For more information, please contact us at rera@centrik.in