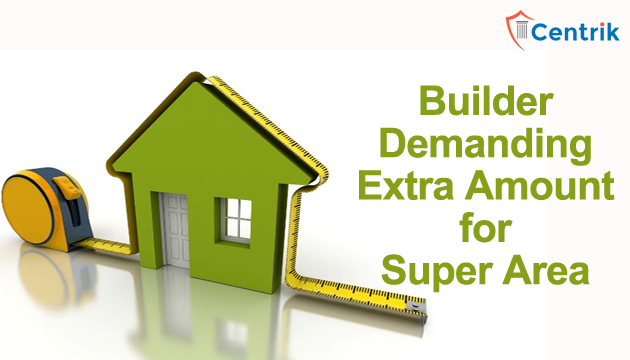 Status as on- 28/03/2020
BACKGROUND
Lately, the homebuyers are facing major issues in respect to builder's claiming extra charges for the arbitrary rise in the super area post actual construction. With regard to this vital question the Haryana Real Estate Regulatory Authority, Panchkula [Hereinafter termed as Authority] has recently passed a detailed order laying down clear principles with regard to increase in super area. In a recent order by Panchkula RERA under Complaint No. 607 of 2018 of Vivek Kadyan Versus TDI Infrastructure Pvt. Ltd.  The authority gave leverage of 5% to 10% increase in super area to builders but specifically mentioned that an increase of 20% in super area is a huge increase thus, it does not appear to be justified.
ANALYSIS
In the above stated case, the authority mentioned that the builder arbitrarily increased 20% super area. The authority observed that such a rise is huge and does not appear to be acceptable.
The builder can unilaterally increase the super area from range of 5 to 10% which is justified. This was clearly revealed in the above-mentioned case. Besides, if the builder wishes to increase above 10% then has to take prior consent of homebuyers regarding variation of such area. Furthermore, the authority stated that the rise of 20% is not justified thus, the builders cannot claim extra charges of the extra area.
The super area can be an accumulation of built-up area and common area that includes the corridor, lift lobby, lift, etc. The built-up area is the addition of carpet area and wall area. And the Carpet area is the area that can actually be covered by a carpet, excluding the thickness of inner walls.
CONCLUSION
The authority has granted a sigh of relief to numerous buyers across the state by giving their clear ruling on the increase in Super Area. That this problem of increase in area is faced by almost all buyers when possession is offered. You as homebuyers should always check the possession letter in detail while taking possession as such increase and the ancillary charges charged on this pretext is always there. So, be a vigilant buyer and save yourself from paying such extra costs in case increase is not in the permissible limits.
Disclaimer– The above article is based on the personal interpretation of related laws, which may differ from person to person. The readers are expected to take expert opinion before relying on this article. For more clarification, the readers can be expected at support@centrik.in