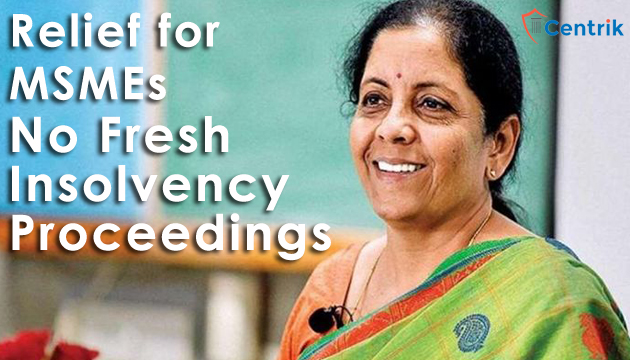 Status as on- 18/05/2020
Under the V Tranche of the economic stimulus package for Aatmanirbhar Bharat, Finance Minister enhanced ease of doing business for MSMEs (Micro Small and Medium Enterprises) in response to COVID-19 through Insolvency and Bankruptcy Code.
Embargo on fresh insolvency proceedings and Increasing pecuniary threshold 
The Government has raised the minimum threshold to initiate in insolvency to Rs. 1 Crore, the earlier limit being Rs. 1 Lakh, such a measure shall largely insulate MSME's from the fall out of failing to repay debts owed due to the lockdown.
The Ministry of Corporate Affairs had earlier limited initiation of fresh insolvency proceedings for a period of 6 months which now stands extended to 1 year. The present steps taken by the Finance Ministry only adds to the protective and financial measures taken by the Government in wake of the Prime Minister 20 Lakh Core Stimulus package to promote a self-reliant India.
The Finance Minister on 17th May 2020 announced that debts incurred during the COVID-19 lockdown shall not be treated as default under the IBC for triggering insolvency proceedings, the special insolvency measures will soon be notified and reflected in an ordinance as per Section 240A of IBC.
Shortcomings and Way Forward
Many within the MSME Sector do not find benefit under such measures, as they are critical of the effect of such measures in actually helping in ease of doing business, the MSME Sector is demanding instead tax benefits, refunds, online registration and other such measures that help and support and financial distress MSME to continue with their business.
Others are critical that these measures do not help small and micro industries that are starved of funds for basic business operations such as the liability for wages and fixed costs incurred on rentals, electricity, and other municipal charges.
Voices within the MSME sector are hoping for measures that help to enhance business continuity and ensure the revival of business activity.
Disclaimer- The above article is based on the personal interpretation of related laws and judicial pronouncements, which may differ from person to person. The readers are expected to take expert advice before replying to the above article. The author can be reached at support@centrik.in