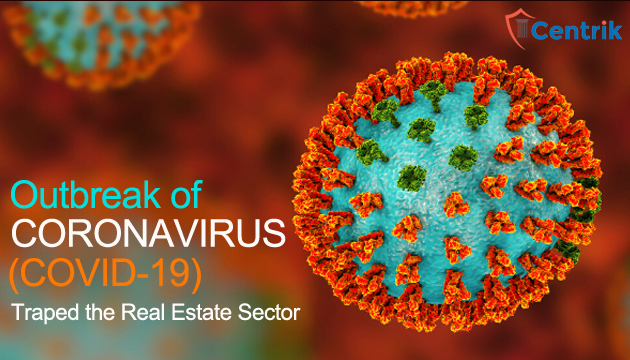 Status as on- 26/03/2020
Introduction
The Coronavirus Crisis (COVID-19) has adversely impacted the Indian Economy, as a resultant, laid major impact on the real estate sector as well. Recently, the secretary of Aurangabad, of Confederation of Real Estate Developers Associations of India (CREDAI), mentioned that around 300 ongoing real estate projects in the city could be delayed due to the shutdown orders given by the government.
In addition, it is going to affect the buyers as delays are likely to sneak in for the possession of their dream homes as well as the builders and promoters as they will face the difficulties in giving timely possession, consequential they will be levied by the RERA in the future.
MAJOR IMPACTS ON THE REAL ESTATE SECTOR DUE TO OUTBREAK OF COVID-19:
The number of inquiries for fresh booking of flats/apartments has been dropped in an inappropriate manner due to shut down orders. 

The flow of capital in the real estate sector has been stuck, as the buyer's payments have been stopped due to shut-down situations. 

These circumstances will be going to delay in the ongoing projects as well as make several interruptions.
Therefore, the CREDAI took cognizance of above-mentioned problems, and approached MahaRERA with a request of relaxation and to show a lenient approach towards the promoters and the builders in lieu of the prescribed rules in case of delayed possession of flats/apartments.  
Besides the undesirable impacts on the real estate sector, the CREDAI suggested to the future buyers that the current situation in the real estate may offer an opportunistic time to secure the property deals at relatively lower costs.
CONCLUSION 
The outbreak of COVID-19 has adversely affected the real estate sector. This current situation gave massive disappointment and distress to the homebuyers, furthermore, it also provoked the development in the real estate sector. This undesirable impact on the sector can only be secured by the upcoming resolutions of the government authorities.  
Disclaimer- The above article is based on the personal interpretation of related laws and judicial pronouncements, which may differ from person to person. The readers are expected to take expert advice before replying to the above article. The author can be reached at support@centrik.in