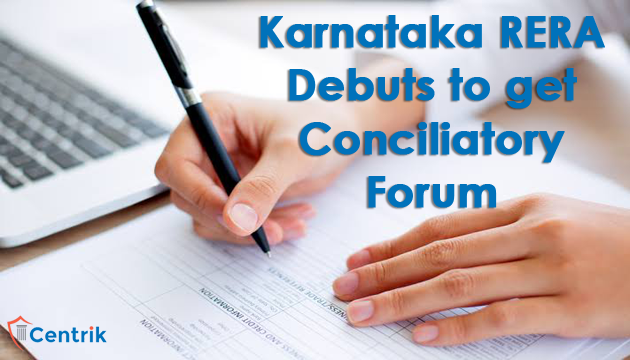 Status as on- 25/11/2019
INTRODUCTION:
After Maharashtra and Uttar Pradesh, the state of Karnataka is all set to make its debut in establishing a conciliation forum apart from the existing real estate Authority. The state government has proposed setting up this forum for facilitating an amicable settlement of disputes arising out of the real estate sector.
Though RERA was enacted to create specialized tribunals along with protecting the interest of homebuyers in the real estate market, the current scenario speaks otherwise. Unsatisfied stakeholders have pushed Krnataka RERA to resort to alternate dispute redressal methods, whereby a conciliatory forum will be set up with representatives from across the real estates' industry such as homebuyers, promoters and RERA authority who will sit across each other to arrive at mutually acceptable terms and conditions.
WHAT IS A CONCILIATORY FORUM?
In its general sense, a conciliatory forum means an out of court settlement which is voluntary in nature. Through these parties to a dispute seeks to mutually resolve their differences with the help of a conciliator, who is a neutral third party. This form of settlement is confidential, flexible and also cost & time efficient. As conciliation is not binding, parties to dispute always possess an option to approach the court if the settlement does not work out.
WHO IS A CONCILIATOR?
A conciliator will be a neutral third party appointed by the RERA Authority to overlook the whole process and help allottees and promoters arrive at a mutual settlement with the help of healthy negotiations.
As conciliation forums have proved to be successful in states like U.P. and Maharashtra chances of success seem fairly good. The proposed forum is just an addition to the existing layers and not mandatory to be followed by the Homebuyers. With this, an aggrieved homebuyer has an option to try and amicably resolve the matter before filing a complaint with RERA.
CONCLUSION:
Though approaching conciliatory forum is not mandatory but it is always advised for homebuyers to harmoniously resolve the issues, this process while saving time and energy also ensures to bring down the number of complaints to a considerable extent. Weighing the heads conciliation is always a better option to go for a hassle-free process. This way mediation before litigation seems a fair trade.
Disclaimer – The above article is based on the order and interpretation of related laws, for general awareness. The readers are expected to take expert opinion before reliance on the article. For any clarification, please read at support@centrik.in