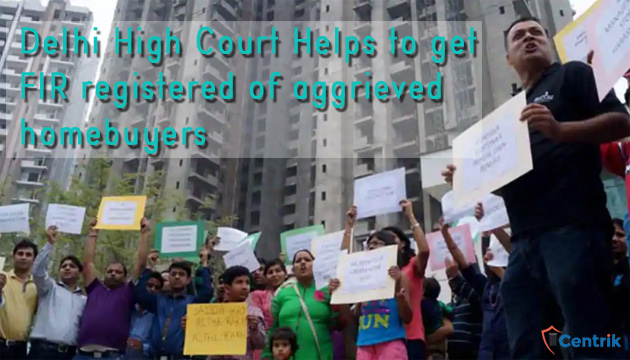 "Right is right even if everyone is against it, and wrong is wrong even if everyone is for it"- William Penn
The homebuyers who have invested large chunks of their hard earned money in real estate are trying their hand for justice under every law in the country. One such remedy that the buyers seek is to get an FIR registered against the fraudulent developers. Initiating a criminal action gives them a hope that may be they will get to the other end of justice but there are many stakeholders in the process which play their cards for causing injustice to the already aggrieved buyers.
The Delhi High court acted as knight in shining armor for the buyers of the Toady homes and Infra. The aggrieved buyers of the alleged developers had to put a long fight in order to get an FIR registered against the fraudulent directors. They took money on pretext of developing a mall in north Delhi and promised to provide shop spaces. The High Court pulled Delhi police for not registering an FIR against the developers and hinted towards the fact that the developers have deep pocket due to which the FIR was delayed for so long.
The aggrieved homebuyers in lieu of the delayed FIR had also approached the District and Sessions court which also ruled in favour of the developer. The High court also stated that such delay in filing the FIR has resulted in serious miscarriage of justice for the aggrieved homebuyers. Further, Justice Vipin Sangahi stated that the court is not referring the natter to CBI as if now and will give one last opportunity to Delhi police to file the FIR and start the investigation and in case petitioners do not feel satisfied with the pace of the investigation they can move a plea for transferring the probe to CBI. A cost of Rs.10, 000 was imposed on both the firms which have to be deposited within two weeks.
The buyers are suffering due to the illegal actions of the developers for years now but it seems that the state law enforcement agencies are least bothered about the same but the courts in our country are still alive and have a conscious that thrives for the aggrieved.
The order of High Court will create a detrimental effect on other such developers in the market and has also given a ray of hope for buyers who are suffering due to fraudulent acts of the builders. Though filling of FIR is just a baby step in the long fight of justice and the buyers still have to wait for some conclusive results.
Disclaimer – Please note that the above articles is based on the interpretation of related laws and judicial pronouncement which may differ from person to person. The reader are expected to take the expert opinion on the matter.